Our Firm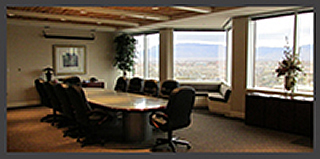 Madison, Mroz, Steinman & Dekleva, P.A. is one of New Mexico's leading law firms specializing in all aspects of civil litigation. The firm was established in 1991 and includes attorneys primarily engaged in multi-dimensional civil practice. Individual attorneys within the firm concentrate on, among other areas, contract law, commercial litigation, civil rights and employment law, personal injury, probate, products liability, real estate and property law, construction law, workers' compensation, general negligence, professional malpractice, and insurance law. The firm is rated AV by Martindale-Hubbell.
The firm takes pride in handling cases in the most aggressive, yet cost-effective way possible. In appropriate cases, this may include early mediation or working with the client and opposing counsel to reach settlement. The firm believes in formulating discovery plans that match the goals and interests involved in each piece of litigation. In many cases, this involves limiting discovery to that necessary to develop the facts needed to protect a client's interests and determine whether settlement or trial is the preferred alternative. The firm's policy is to file motions for summary judgment, when appropriate, to eliminate, when possible, the cost of further preparation and trial to the client. The individual expertise and experience of the firm's attorneys are extensive, resulting in efficient handling of cases.
The firm prides itself on its cost-effective and efficient handling of cases. The firm's success in providing cost-effective services is evidenced by the numerous insurance industry clients who look to it for representation. Representative insurance companies and other clients of the firm include:
ACE USA Claims; Albertsons, LLC; American Family Insurance Company; American National Property & Casualty Company; AmTrust Group; Bank of America, N.A.; Brotherhood Mutual Insurance Company; Chubb Group of Insurance Companies; Colorado Farm Bureau Mutual Insurance Company; Community Health Systems; LifePoint Hospitals, Inc.; Lloyds of London; Markel Insurance Company; RSUI Group, Inc.; Oceanus Insurance Company; Travelers; UBI-AM Trust; United States Liability Insurance Group; Zurich-American Insurance Group.
Applicable hourly rates are based on the nature of the issues being handled and the volume of work performed for a client. The firm's rates are competitive with firms in New Mexico. Expenses related to representation, such as photocopies, long-distance telephone, on-line computer research, travel and accommodations, are billed at actual cost.